Cixi Air-Fluid AJPLF06-1 / 4 90 Grad Innengewinde Schwenkwinkel
Cixi Air-Fluid Messing vernickelt Push to Connect Armaturen bestanden 90.000 Impulstest bei 500 bar Arbeitsdruck in USA Kundenlabor.
Produktbeschreibung
Cixi Air-Fluid AJPLF06-1 / 4" , 90 Grad - Schwenker - Innengewinde Elbow Messing vernickelt Push-to-Connect Fitting, 06mm Rohr - AD x 1/4" BSPT männlich .Collet Material: H59 Messing, Größe Hex: S 17mm , Werkstoff: Nickel-Blech, Druck (PSI) 230, Temp Reichweite: -20 bis 100 Deg, Gewicht: 32.00g, Höhe: 31.00mm, Nickel Dicke: 10um, O-Ring: NBR-A, Gewindelänge: 9.50 mm, Paketmenge 25Pcs / Beutel. Garantie: 18 Monate, Marke: Air-Fluid.
Vorsicht
Die wiederholt Verbinden oder Trennen des Nylon oder PU - Schlauches in Messing vernickelt Druckfittings, die die Scratches mit Nylon oder PU - Schlauch bedeckt verursachen wird, die Leckage möglich ist, ist der richtige Weg , die verkratzte Nylon oder PU - Schlauchende abschneiden und Fügen Sie es wieder ein, um das Leck zu vermeiden.
Unsere Dienstleistungen
1. Messing vernickelt Straight Male Adapter & Female Adapter Push in Fittings
2. Pneumatisches Messing 90 Grad Drehgelenk-Winkel- und Innengewinde Push-in-Fittings.
3. Messing-Lauf und Zweig-T-Stück Push to Connect Tube Fittings
4. Gleiches T-Stück u. Y, Gleiches Kreuz, Verbands-Gerade und Winkelstück, ungleiche gerade Verbindungsstück-Befestigungen.
5. Banjo Swivel Messing Push in Fittings, Union Bulkhead Fittings, Bulkhead weiblichen Armaturen.
6. Alle Metall Geschwindigkeitsregelventil.
Verpackung & Versand
Die 10Pcs von PE-Beutel, die 50 Stück Box und die 500 Stück Standard-Export-Karton. Versand per See oder Luft- und Luftschlepper von TNT, UPS, FEDEX & DHL etc.
Empfohlene Tube Material und Tube Größe Toleranz Anforderungen:
Polyurethan Tube: angegebene Passgröße ± 0,004 "max. (± 0,1 mm max.)
Nylon Tube :: angegebene Anpassungsgröße ± 0,004 "max. (± 0,1 mm max.)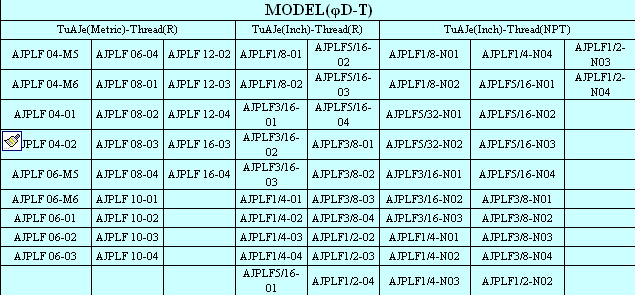 Produktgruppe : BSPT Messing vernickelte Steckfittings